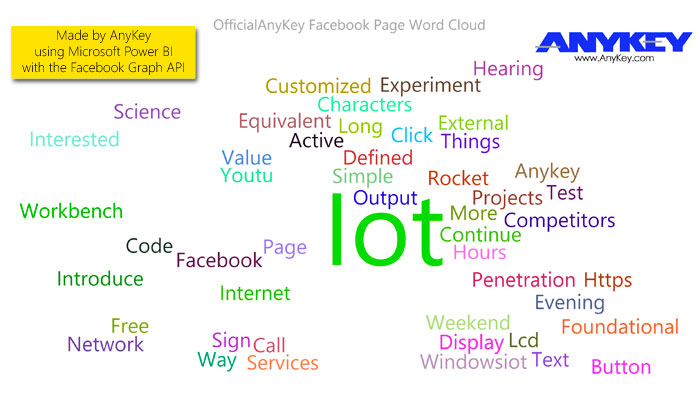 In conclusion, we have some work to do.
See what I did there? At a glance, I was able to identify a problem that Power BI visualized by just looking at the intuitive output and immediately recognize the path forward.
Microsoft Power BI really puts data at your fingertips. This cloud map of keywords was generated through our Official AnyKey Facebook Page. Admittedly, we don't use our Facebook Page as much as we should. But with a 30 minute investment of my time (a good chunk of which was downloading and installing yet another feature-rich upgrade to the Power BI desktop app), I was able to leverage some Facebook Graph statistics and build a keyword based Cloud Map.
At a glance, I can see what words we use most commonly on AnyKey's page. This gives us insight on areas that we're emphasizing well (IoT is a big message for us these days, check!). But, more importantly, as the image looks fairly sparse it's clear to see that we either don't have many posts (guilty) or we don't write a lot for images we share (also guilty).
Power BI isn't complicated
In a nut shell, for a few minutes of effort, I was able to drill into a Web-based data source and consume that data in a powerful and rich visual format.
AnyKey can help your organization get on the fast track with the millions of Power BI customers already making faster business decisions.
Check out our Power BI Page on AnyKey.com for FREE resources to see if Power BI is right for your organization.
With some intuitive steps to massage the data, I was able to extract the text from each posting and generate "lists" of words from each posting. Power BI Visuals Gallery first. On that page, search for the "WordCloud" visual and follow the steps to download and import the visualization.
About the Author
Tim McKay is a self-proclaimed serial entrepreneur with experience in a diverse set of tech-centric companies. He is currently working to continue expand his managed services company nationally. He is a business consultant, tech practitioner and an internationally published author with a passion for business and seeing technology improve the lives of humans. Tim enjoys a good tawny Port, and likes to think of himself as a coffee connoisseur (aka. snob). He holds an MBA, Graduate diploma in Management and a Bachelor of Science and holds a doctorate in the "School of Hard Knocks".
---