Migrate to SQL Server
Best of breed security, top-notch performance and lower cost of ownership. Those are the reasons why you're convinced to move to SQL Server 2016.
As a world-class and top-tier Microsoft partner, AnyKey has developed proprietary capabilities to ensure your path toward a SQL Server migration goes as smooth as possible, and to develop ROI promptly. Your AnyKey SQL migration team are your advisory team and enablers of your successful SQL Server migration.
The Microsoft Data Platform is our specialty. Don't leave your fate to a provider that "does database on the side". Call AnyKey to Continue forward to SQL Server, today!
---
at the Starting block: your ROADMAP
No two organizations are the same. No two Roadmaps look the same.
AnyKey has the process and methodology to deliver a detailed and actionable plan to prepare your organisation for the journey ahead:
organize through assessment of current state of standards, process and technology.
align teams and internal processes with new standards and tools.
deliver instructional guidance on the ongoing build-out in "bite-sized chunks".
Contact AnyKey, your professional in the Microsoft Data Platform for a no-obligation first consult, meet us and make an informed choice on starting your Data Platform Migration journey with an AnyKey SQL Server Assessment.
---
it's all about you
Structured, make-sense approaches are at the core of our SQL Server Roadmap delivery model.
Our principal consultants have worked on both sides of a consulting engagement. We know how painful it is to read a consultant's report only to realize, "there's no meat!".
Our practical approach is scalable for organisations of all shapes and sizes. No matter how complex your environment has become over the years, we've seen it all.
Leverage tried and true methods in your success story. Move forward today!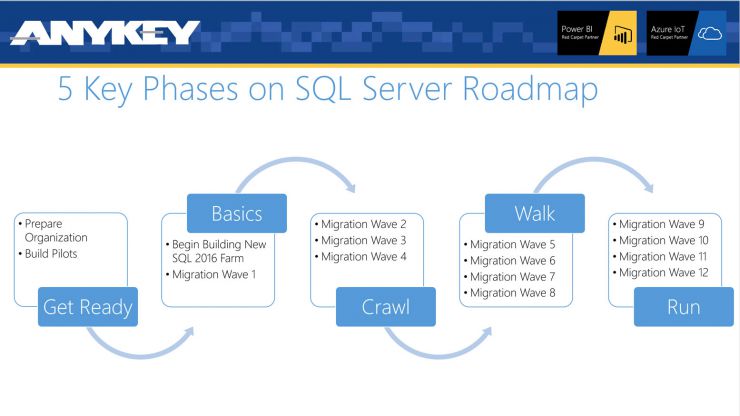 ---
Call AnyKey to Continue™
Reach out to move forward on your SQL Server trajectory today!
Don't delay. We have loads of cool opportunities to inform you and your team, and incentives to save you money when you're ready to take action.